Welcome to our page!
French in Lyon is a French School offering practical French lessons to different learner profiles. With our school you'll learn French in one of the most important cities in the country. You'll be learning French in the city of The Little Prince and the Lumière brothers! That's why we offer you to learn the language and discover the patrimony of the city through our afternoon outside lessons.
Whatever your profile is ( student, Au pair, teacher, expatriate, organization employee, association member, Erasmus student, etc…), we'll accompany your stay with a program and courses adapted to your needs and expectations. Tailor-made programs are our speciality! In fact, we'll adapt our courses to you depending also on your age and level.
To communicate in a language means to actually speak it effectively, that's why our team focuses on speaking skills. We offer you plenty of opportunities to practice your oral proficiency, since you'll be placed in very small groups or in private lessons that allow you to participate more. All of this along with the kind atmosphere our teachers will assure, will boost your confidence and improve your communication.
Indeed, one of our main goals is to give you the tools to feel more confident speaking the language. The approaches our courses relay on, (action approach, for instance) will allow you to use the language with self-assurance.
Our dynamic and kind team is ready to welcome you! Contact us !!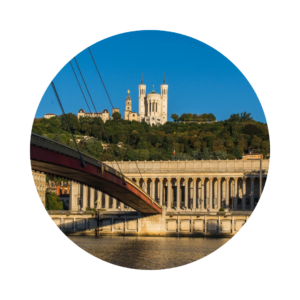 Our innovative innovative pedagogical approach in three essential points.
One of our main goals is to allow you to expand your vocabulary and your knowledge of French expressions. This will be extremely helpful for you in daily life, whether it is in your personal life or in your professional setting.
With French in Lyon, you're the main character of your learning process! You'll be accompanied by our instructors who will make you feel at the very center of your learning experience. You'll be taking French language in your hands!
Our courses and workshops are conceived to improve communication in groups. The time of speaking being essential to progress, our qualified teachers will motivate you to participate continuously as they focus on teaching you the structure of the French language. However, notice that focusing on oral skills doesn't mean neglecting writing and reading. In fact, the activities linked to these skills will be proposed to you in relation to your wishes, needs and profile. Remember that in French in Lyon, you'll have multiple ways of learning!
Learning French while discovering the beauty in Lyon culture will be our priority. This intercultural exchange will be possible thanks to the multiple interactions between instructors and students and with people from the city in the many cultural activities you'll be participating in. Furthermore, you need to know that our programs are based on the CEFR (Common European Framework of Reference for languages), thus they are action-oriented. This asset gives us the tools to train you for proficiency tests.
We design our courses in a personalized way, based on the results of the arrival needs analysis. The last one consists of an oral and written French test at the beginning of the program. We believe in evaluation as a means of measuring progress, that's why we'll implement mini-tests throughout the program, so that you can observe your improvement.
Accommodation
If you want to experience full immersion, finding your accommodation in Lyon is an important step. An accommodation that suits you is the perfect complement to your French course and to a cool stay.
Since we acknowledge the importance this has for you, we have made a selection of the many possibilities in housing adapted to budget and age. On your request, we can do all the necessary to find an accommodation adapted to your preferences. Besides, if you feel the need of having specific support during your stay in Lyon, we'll provide you with a customizable service.
Professionnal experiences or internships found for our students
Training courses for linguistic and cultural immersion
Many French companies have entrusted us with in-service training in FFL (French as a Foreign Language), allowing us to accompany many expatriates in their personal and professional life. Thanks to this collaboration, we can also provide you with immersive internships in these enterprises. These internships can be the opportunity to practice French in a specific professional field, but also to add some valuable lines to your CV.
Now, if you're European and are looking for a professional certificate valid in France, French in Lyon can help you find a block release training. The last one will be the key for obtaining the qualification you need.
Once you get to Lyon, our team will hand you a folder containing all the useful information for your stay: your schedule, information about the city and the Auvergne-Rhône-Alpes region.You'll equally have an assigned tutor who will accompany you during the whole program. Notice that the lessons and cultural activities will be adapted to your disponibility and preferences.
One of our associates in Europe is Erasmus+. Thanks to our multiple collaborators around the world, we can work on language projects and active learning in Lyon, Bordeaux, Montpellier, Nice, Marseille, Toulouse and a lot more cities in France.
More of our strengths
The whole company approaches all profiles!
On the one hand, we also can accompany expatriates and their children in the process of learning French. Our associate, Glotte Home, will provide you with a home lessons plan.
On the other hand, French native speakers are also welcome to join our English and Spanish classes, thanks to our holding company Glotte-Trotters, an organization for learning languages.
In addition, Trotters Training allows us to train and specialize you in Childcare. In this way, if you're an expat searching for a job or a foreigner student in France for a gap year and you're looking for a certification, this program can be the one for you.