Walk and talk
Would you like to learn about Lyon's architecture and history? Reading books is one way to do it, but it takes longer. Moreover, if you're staying in Lyon the right way to discover these aspects of the culture is actually going outside and finding out by yourself! Take a stroll around the historical places of the city: Bellecour neighborhood downtown, the Italian Celestins Theatre, etc.
Besides, for those of you who love street art, we invite you to join the Croix Rousse neighborhood or the eighth district, embellished with artistic walls. You might think this is something that can be easily done with a tourist guide. However, these walks are much more than walking and listening, you'll be actually talking to the locals and practicing your listening and speaking skills at the same time. These particular courses are of course planned ahead, taking into account your level. Also, some vocabulary and grammatical points are approached before going out on the adventures.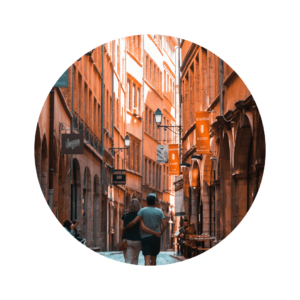 Our workshops can be subsidized by ERASMUS+ or Turing Scheme
How ?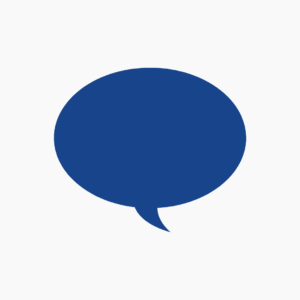 Are you a French teacher or any other school subject? Are you studying to become a teacher? These specific French courses are specially conceived for elementary, secondary and university teachers. One of the advantages of this program is that you'll be meeting colleagues from different places in the world, which will give you the possibility of exchanging pedagogical practices and different approaches.
So, if you want to learn more about teaching and improve your French proficiency at the same time, don't hesitate to join us! No matter what your French level is or your teaching subject, or if you're teaching in another country, this program has been made for you! Our instructors will take into account your teaching experience, your subject, main goals and interests to create the contents of the courses. Many options will be offered to you.
Is there a specific topic you're interested in? Let us know! We're, in fact, constantly creating customized courses for our students. You can even combine courses in Lyon with the other cities we are established in (Bordeaux, Montpellier, Toulouse, Nice…), in this way, you'll be learning through different approaches and visiting different cities in France. Come and discover different ways of thinking the teaching field with our different workshops in every city we mentioned before.
Some examples of ERASMUS+ and Turing Scheme programs conceived for teachers
For teachers who are looking forward to teaching a school subject in FFL (French as Foreign Language), we offer you our EMILE program. This consists of lessons on didactics for teaching your specific subject, but imparted in French.
Furthermore, teachers can combine the EMILE program with other courses based on the approaches we use. Our methodology includes didactic and pedagogic contents linked to teaching a subject different from French: general knowledge like math or more specific areas, such as industrial robots. In this sense, you'll be learning French by the means of integral courses.
This program will allow you to take some time from the actual teaching and continue learning about it. Come and join us to improve your knowledge and practices, but not only, because your experience will also enrich the knowledge of other teachers !
The courses of this program are built thinking on the different learning styles. For starters, we have "formal" learning, which consists of sharing and exchanging teaching methodologies with other teachers. After that, you'll be engaged in "informal" learning, that means that you'll be in full immersion in our associate schools. Besides, cultural activities are also organized by our team, so that you discover Lyon. We know that getting in contact with the culture takes place outside the classrooms and breathing fresh air will get you out of the routine.
We are waiting for you to widen the international network of French in Lyon. And you, what are you waiting for?
Boosted Speaking Skills
Now you have an A2, B1 or B2 level in French, but you want
to improve your communication? This course is made for
you! The following are our main goals :
Improving communication by the means of better pronunciation and intonation.
Improving communication by targeting vocabulary and grammar difficulties.
Improving your speaking skills through discussions, debates, rôle play, treasure hunts in the city…
Discovering new teaching approaches and creating an international network of motivated teachers.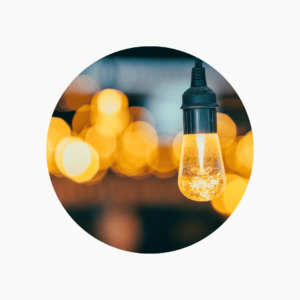 During your training, our French School will offer you three interchangeable programs. They articulate into French perfectionning courses with lessons outside the classroom (15 lessons per week), pedagogic training workshops (15 lessons per week), cultural activities and/or excursions (5 hours a week), including commented tours of Lyon and all the region. Our bilingual instructors will help you when needed, translating important information into English depending on your level.
Practical pedagogical training in French in Lyon
You want to invite technology in your classroom to make learning easier? French in Lyon puts at your disposal the tools for it.
We provide you with the techniques and methodologies for teaching your subject and FFL (French as Foreign Language). We'll show you the way we use technology to help students in their learning process, with ludic and interactive content.
How does it work ?
If you're a college student and have the chance of studying abroad for 3 to 12 months. If you can do an internship abroad for 2 to 12 months. This is the program for you !
After obtaining your degree, you have the possibility of doing an internship in the 12 months to follow. This internship can last from 2 to 12 months, depending on the country. Be careful to make your wish list with your counselor before you finish your studies.
If you make part of the professional staff, you can also do an internship or observe our courses or even follow one of our programs. Whatever your choice is, remember our courses can last from 2 days to two months.
For apprentices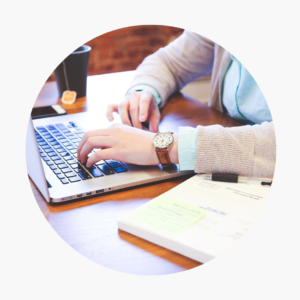 If you're an apprentice or a fresh graduate in professional training, an ERASMUS+ scholarship is also one of the many options you can benefit from once you obtain your degree.
Job Seekers
You're no longer a student ? No problem, Erasmus+ offers scholarships for those of you who want to do an internship and don't have student status.
You'll be provided with :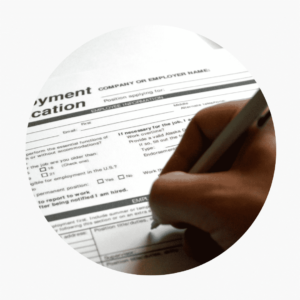 A diagnostic French test the day of your registration.
Courses adapted to your needs and level (CEFR)
Vocabulary that suits your field and professional profile.
Personalized support throughout your stay.
A satisfaction survey at the end of your stay.
A linguistic evaluation is planned if you want to get the Bright-FLE certificate. We'll also provide you with the program certification.
Professional Courses
Our French courses for business and work
Professional Courses
We put in place French for professional life courses, either for French companies, OPCA  (French organization supporting professional development) or Pôle emploi (governmental agency supporting unemployed people).
Struggling with French language can represent an obstacle when you first arrive in this country. We're well aware of the difficulties immigrant may face with this barrier, so we want to be with you from Day 1 to help you with anything you need, but also to give you the tools to become fully autonomous in French. 
In France, your employer is legally obliged to make a contribution to your professional training. The  OPCA  (French organization supporting professional development) controls these programs and the money that is collected is used for funding employee training. 
When you feel ready to start your training, though not mandatory, don't hesitate to talk to your employer about it. After that, there are two main requirements. The first one is to be working in France for at least one year. The second one is that you have to organize your schedule depending on your free time. 
If you're a freelancer, a non-salaried manager, a shopkeeper, a craftsperson or a company director, you can contact us too!. Remember you have also to make a contribution to your employees' training. 
Contact us for further information!
Our French courses for business and work
Any specific requirement?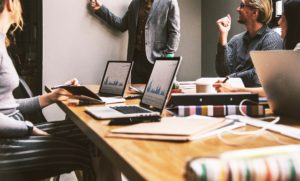 Do you need to get ready for your citizenship interview?
With us you'll improve your cultural skills by learning about the values, history and patrimony of France. These elements and our training will allow you to be ready for this important interview.
 According to the Common European Framework of Reference (CEFR), the proficiency levels of a language go from A1 (beginner) to C2(expert/native). In this sense, you'll have to pass the B1 proficiency level test in order to obtain your citizenship.
 Are you feeling confused with the process? French in Lyon will offer you help with appointments and the constitution of your folder.
Daily life activities can sometimes become difficult if you're not very fluent in the language. That's why if you need to see a hairdresser, open a bank account, validate your stay permit, or other administration processes, French in Lyon will be there for you!